5 Tips for Hiring Event Staff for Your Next Corporate Party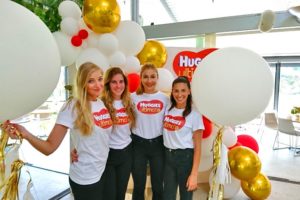 If your corporate holiday parties are anything like ours, then it's a fun-filled evening of delicious food, laughter, and memories that last a lifetime. In order to organise a memorable corporate party year after year, you need to continually bring new delightful elements to your evening.
The best way to do so is by hiring experienced event staff to assist your team throughout your corporate holiday party. Having experienced event staff will not only bring excitement to the party but, more importantly, it will help promote brand loyalty and company morale.
1. Choose people that have worked in the industry before
Event staff that have experience in a certain industry will have a better understanding of the market – it's a no-brainer. They understand the tastes and expectations of a specific audience, tailoring the event accordingly. However, if your brand is a niche industry, don't worry – experienced event staff are able to adapt to the company and industry very quickly.
2. Hire staff that represent your brand
Every company abides by its own image, mission, and purpose throughout all operations. A successful corporate party is one that embodies the company's image perfectly and uses it to its advantage to create a fun event.
Experienced event staff are able to quickly learn everything about your brand to represent it accurately. The annual corporate event is a celebration of the company's achievements and its workers, so choosing the right event staff to represent the organisation's image is essential.
3. Choose a service that caters to your needs
Before hiring event staff, you need to determine the scale, duration, and audience demographic of the event. Once your goals are set, you will have a clear picture on the types of staff you need. Try to also think about the gender, age, and cultural diversity of your target audience before hiring event staff.
Event staff are also able to cover a wide variety of roles; knowing which roles you need for your party will result in a much more organised event.
4. Hire on attitude over looks
Many companies make the mistake of hiring event staff based on their looks. Attitude, personality, and experience are just as important – if not more so – as looks. While looks are important in certain roles, having staff with the right attitude will ensure that your party runs smoothly and according to plan.
5. Get the logistics and budget right
When hosting a corporate event, there is a lot of planning and execution to do. To ensure your event runs smoothly, make sure you get the logistics right – discuss the number of attendees, event theme, goals, venue, and budget that the staff will need.
The event staff should become an extension of your own team, reflecting your brand's image. The quality of the agency you hire staff through is directly correlated to your budget. You might think that searching for event staff in a student classifieds section is a good idea, but they will probably not meet your requirements and expectations. Working with a professional event staffing company that has a proven record of its achievements, will ensure your corporate party is successful.
At Promo People, our event staff are trained marketing professionals. Whatever you need for your corporate event – our team are up to the task.
If you're looking for experienced event staff Melbourne or event staff Sydney wide, please get in touch here.